THE NEW CD IS NOW AVAILABLE!
This CD was recorded live @ the Paradise Tiki hut last summer.. ENJOY! $15.00  PLUS $5.00 dollars for shipping. add $15.00 if shipping to Europe or Canada
$15 + $5 shipping (Inside the US)
$15 + $15 shipping (EUR or CAN)
CDs for Sale
---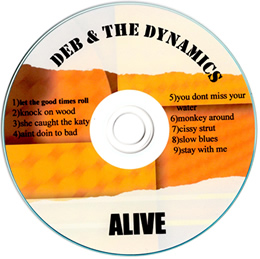 New 2011 Cd has arrived: ALIVE
1. Let the good times roll
2. Knock on wood
3. She caught the Katy
4. Ain't doing to bad
5. You don't miss your water
6. Monkey around
7. Cissy strut
8. Slow blues
9. Stay with me
Add to cart button coming soon!
$15 for the new ALIVE cd - Free shipping now available!
---
TOO MUCH SOUL TO CONTROL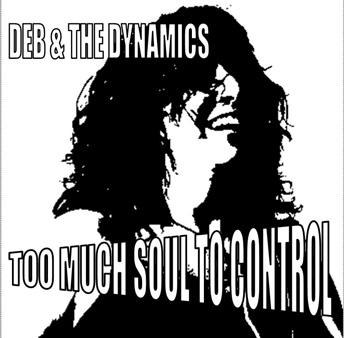 This is Deb & Dynamics latest release. It was recorded live at Centennial Park in Ft. Myers, Florida. Many of the bands most popular show songs are on this CD. Brent's Music provided a great mix and you can feel the energy you have come to know at a Deb & The Dynamics live show.
1) PUT IT WHERE YOU WANT IT 2) ROUTE 66 3) I'M READY 4) SOUL MEDLEY: (SOULMAN - RESPECT - GIMMIE SOME LOVIN) 5) LET ME LOVE YOU 6) WHO DO YOU LOVE 7) I'D RATHER GO BLIND 8) REMEDY
$15 plus $3 shipping & handling (Order using Paypal)
---
"Feels So Good"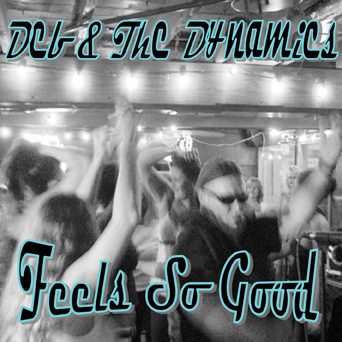 This is Deb & Dynamics second CD, recorded at Barefoot Studios on Sanibel Island with Jimmy Jensen at the controls. The album captures the essence of the bands live performance, but was produced in a studio setting. Careful attention was given to record an album with a true "retro" sound, while paying homage to the roots music which is the mainstay of their repertoire. This album is sure to make you FEEL SO GOOD!! .
1) I FEEL ALRIGHT 2) UNLUCKY GIRL 3) FIFTEEN 4) FEELS SO GOOD 5) BUMBLE BEE 6) MYSTERY TRAIN 7)REET PETITE 8)WOMEN BE WISE 9) SHORT DRESS WOMAN 10) BOBBY McGEE 11) LIFE OF THE PARTY
$15 plus $3 shipping & handling (Order using Paypal)
(Listen to sample music MP3s from this album)
---
DEB & THE DYNAMICS LIVE
(2004) Deb, Newt, Graham (on guitar), Joe Conners (guitar) & Willie Miller on Drums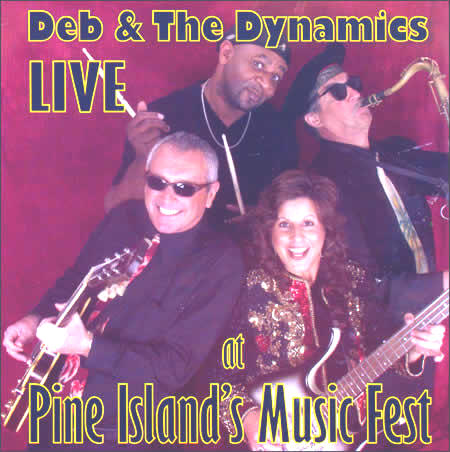 This is the bands first CD, "Live on Pine Island" and was recorded at the 4th. Annual Southwest Florida Folk N Blues Festival, November 13th. 2004. Others on stage that day were Deborah Coleman, Liz Mandville Greeson and The Blue Points, Cobalt Blue & The Troublestarters.
1) WALK RIGHT IN 2) WHEN THE LIGHTS GO OUT 3) ALL-RIGHT OK, YOU WIN 4) BOURBON BLUES 5) I HEARD IT THROUGH THE GRAPE VINE
6) ENGINE #9 7) LOVE ME WITH A FEELING 8) SEND ME SOMEONE TO LOVE 9) MERCEDES BENZ/PIECE OF MY HEART 10) CHAIN OF FOOLS 11) PAIN IN MY HEART 12) RESPECT 13) AMERICA THE BEAUTIFUL
$15 (Includes shipping & handling)